Rugby is a team sport consisting of 18 players. It's an unfamiliar sport that resembles the other team sport like football with the only difference being that in rugby, players can use their hands to carry the ball. However, rugby has a much grander fan base than people imagine. Rugby made its place among the 10 world's most popular sports. People consider it to be a highly competitive and aggressive sport but fans still love it because of the rules and competitive spirit. 
Every rugby game is filled with entertaining and amazing moments. The game is highly entertaining and unpredictable and tables can turn at the last second of the game. A rugby fantasy sports app is the best platform to please rugby enthusiasts and sports fans and has a promising future. Here we will cover features, benefits, and other important factors related to fantasy app development.
What are the important user control features for fantasy rugby app development?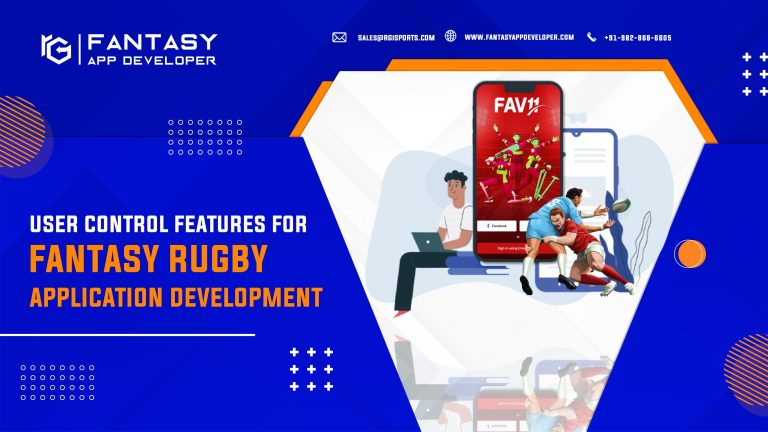 Application settings and management: To improve the player's gaming experience, you can change or edit application settings such as the language, sound option, notifications, gameplay tutorials, two-factor authentication, etc. 
Dashboard:  it is one of the most helpful features of this application and it displays your app's performance against other gaming applications. 
Role-inspired user management: It is responsible for controlling and managing all the activities of users depending on their roles by using a feature called role-based user management. It also allows you to remove a player in case you sense or find something suspicious. 
Match management: this feature gives you the ultimate control over all the match-related features and controls. It also helps in managing the match and the number of betting players bets on the match.
Leaderboard management: To motivate and inspire others and praise the top players of your application, this feature displays the most earning, publicly popular, and skillful players on the leaderboard. 
Category management: this feature comes in handy when players have to manage the category of current or upcoming live rugby matches. You can effectively manage these categories whenever you want. 
Payment and wallet management: it shows the purchased or redeemed amount of coins using the payment and wallet management feature.
Referral management: this feature offers various offers and rewards which expands the application's reach to users who recommend their friends and family to use your app.
Team Management: it only enables users to choose the players who will participate in the live match and you may restrict selection to only active players.
What are the beneficial aspects of developing a fantasy rugby app?
The purpose isn't always to come up with the best or most useful idea like fantasy sports software. Whether this project can get the results you want is more important to know. Examining the benefits of your fantasy sports software development will help us determine whether your investment was worthwhile.
- Stability of your brand name
Building and maintaining your reputation and brand is essential if you want to thrive in online gaming. A top-notch fantasy sports platform and an experienced marketing staff can help you build your brand in the gaming sector.
Your fantasy sports website will stand out from the crowd and be well-liked by users. The devoted user base and successful user experience that this will provide will be even more valuable than the immediate earnings. As a result, your company will experience a long-lasting impact, and you'll be able to forge solid partnerships with key players in the industry. It will also help you strengthen your grip.
- Striking Monetization Opportunities
The fantasy sports software you use is likewise subject to this rule. The primary goal of any firm is to generate sizable revenue and profit. A highly effective and efficient gaming platform that enables you to earn money from a variety of sources, such as display advertisements, in-app purchases, affiliate connections, and more, can draw in a sizable worldwide player base.
- Increased limitations on Business Growth
Your achievements in the fantasy sports industry will make you a skilled player in the tech industry. Not only that, but it also opens many new doors of opportunities for you. You can keep the interest from unforeseen situations by extending and diversifying your business. 
What would it cost to create the fantasy rugby application?
Well, including the design is the key factor in the fantasy rugby app development, it depends upon many factors like complexity, android/iOS, geography, and more. User interface advancements enable more useful apps every day. Logos, wireframes, aesthetics, color palettes, and other design components are used in mobile applications. App architecture has a significant impact on a Fantasy sports app's development cost. The following elements play a critical role in setting the price: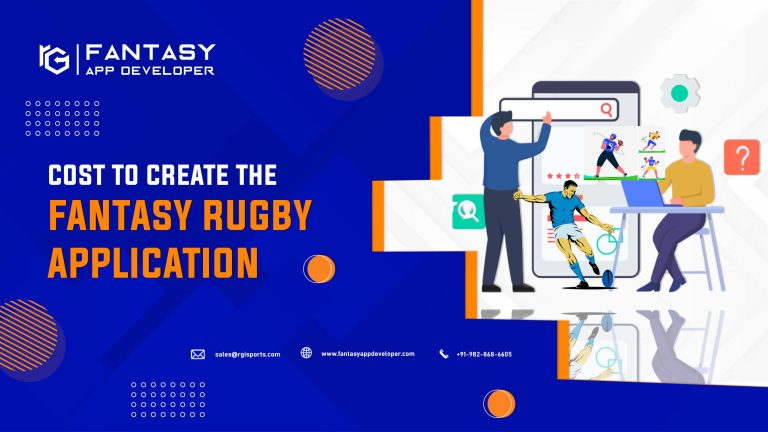 Geographic location: Geographically, it has been observed that the rate of development varies depending on the geographic location where the sports app developer is based. American developer fees are extremely exorbitant when compared to Indian developers. Several countries charge different amounts for programmers and designers.
Complexity: a lot more functionalities and characteristics you get to enhance the application and it'll increase the complexity. Once, complex apps need a brilliant experience and for that reason, the cost of fantasy mobile application development will result in higher fees for programmers.
Android OS/iOS: iPhone and sports application developers are fewer in numbers in comparison to android developers. Android OS developers are significantly fewer in number when you compare them with android developers. Android OS development is an operation and simple command, whereas the iPhones require tough-level coding. Therefore, android application development costs fantasy sports applications much less, whereas, iPhone application development charges high.
Looking skilled developer for your Fantasy Sport App? Or Exploring a ready-made solution? Let's discuss with us on coffee.
We hope the above-provided information helps you understand the details and cost of developing a fantasy rugby application. Witnessing the best fantasy sports app development and investing in the business of fantasy sports will make you stand out from your competitors. Stay updated to learn more about fantasy sports application development.