Artificial Intelligence and Machine Learning have evolved a lot and are on their way to bringing huge changes to human life. The Sports Industry started integrating AI and ML in data analytics, fantasy sports platforms, etc. 
From Formula 1 races to football, AI and ML are being used to advertise, strategize, analyze data, and many more. Through virtual reality, the fantasy sports industry is boosting fan engagement by providing real-time analytics. ML helped the sports industry to deal with the raw data available in sports like player statistics, player performance, recent match stats, etc. 
This data helps to make better decisions like coaching, talent scouting, referring, and streaming. 
1. AI in Recruitment and Coaching
Behind every potential team, there is an experienced coach, but now there is Augmented AI. Whether it's cricket, football or any other game, they are using the player's data to measure the players' potential using wearable sensors, high-speed cameras and other advanced technology that feed data. Traditional coaching and hiring have the biggest weak spot where it takes time to become professional. 
Now, AI assistance helps enhance the in-game strategy based on the data and smart suggestions by technology. Moreover, it takes time to explain to coaches the criteria and analytical method to hire the talent, whereas AI is smart enough to do it independently. 
Talent scouting is the backbone of building any sports-based organization. Where player information like strength, weakness, performance against the opponent team, etc. All such data is gathered by AI to help organizations to hire the best player for their club or business. 
For example, Football teams are well known for trading players by selling players to other clubs for different leagues. Data Science, AI and other advanced technology helped the big clubs to sell players and make 10-20 times more than their original fee. The historical data of the player and estimated potential help to understand market value and invest in the potential young talent. 
3. Fantasy Sports Industry
Technology has turned the dreams of billions of sports fans into reality by offering them a platform to play their favorite sports online. With the assistance of AI and ML, fantasy sports operators are now creating a platform that provides an almost life-playing experience to the users. AI and ML technologies like Chatbots, API, Data analytics, Payment modes, etc. are the foundation of any successful fantasy sports app.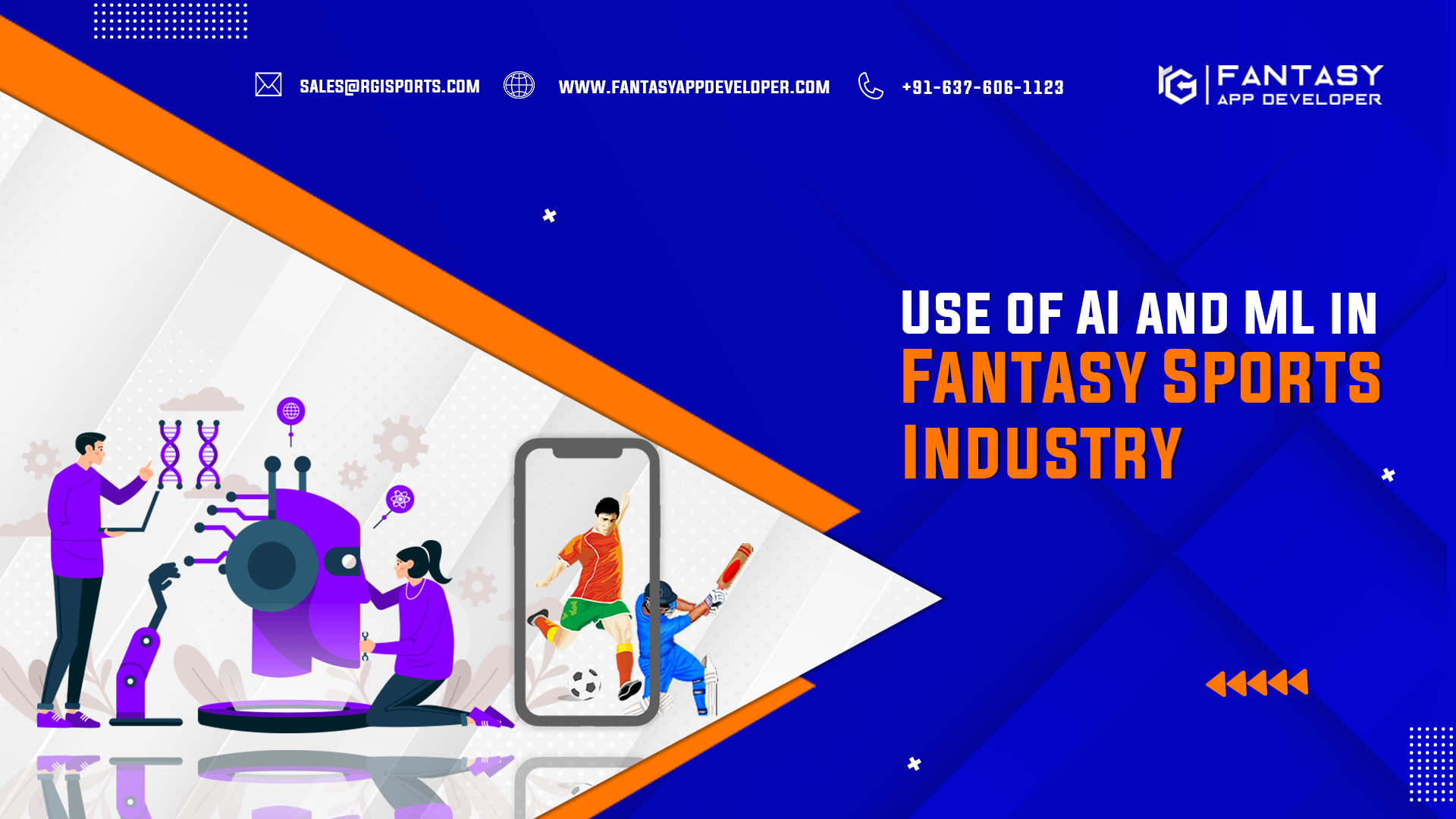 4. Know more about Player's Behaviour
AI is very helpful in learning players' behaviour by monitoring mini parameters side by side. AI in wearable devices and high-speed cameras can track down the individual player's data in the match. Besides, this technology observes minor differences and tells you how players work under stress. 
This data can be used by fantasy sports users to create a potential to play XI and win huge. 
5. Broadcasting and Streaming
AI and ML are used in the camera to broadcast the live match, and broadcasters can use any moment to show as the highlight. AI automatically provides subtitles in different languages based on the location of the viewer. The technology suggests the best angles for sports marketing, along with the highlights/displays on the viewer's screen.
Provides accurate statistics about the game, which helps commentators with commentary. By analysing the demographic response towards any brand, brand advertising can be improved through AI.
Referring has been one of the primary applications of Machine Learning and Artificial Intelligence. It supports precise judgments and fair game—for example, the use of hawk-eye technology to identify whether the batsman is out or not. 
While betting on a team or on a player a better player must know the terms of technical data. The betting industry has joined hands with AI to use the data. From offline to online betting, AI has made betting more attractive. To predict the winnings, a better person must need the data. For example, cricket has a certain set of rules, and by running multiple videos with the algorithm to see patterns that can be predicted by AI and ML. Research on sports betting algorithms is still under process and multiple organizations are continuously working on it. 
However, now bettors can participate in multiple online betting streams with the help of AI to enjoy everything from the comfort of their homes.
Looking skilled developer for your Fantasy Sport App? Or Exploring a ready-made solution? Let's discuss with us on coffee.
Artificial Intelligence and Machine Learning started influencing each aspect of the Sports industry. Whether it's about creating Fantasy sports or hiring the right talent, AI and ML are assisting humans to do their best. With excellence in data analysis, visualization, and prediction; the industry is ready to experience the new definition of precision and insightful game.