There are two questions that are mostly raised before starting any business or investing in any industry. The first question is why should I invest in this particular business?" And second, if I am going to invest, then how much money is required to begin with the business? One must have clarity for both questions to end the possibility of any last-minute hassle before developing the Fantasy Cricket App.
Here we have done a bit of research to find the best reasons to invest in the Fantasy Cricket App and the estimated cost to develop it.
Reasons to Invest in Fantasy Cricket App
Why invest in a Fantasy Cricket app? Many raise this question while planning to enter the fantasy sports industry! Well, one should raise more such questions in the beginning to kill the doubt clutter related to the industry and its future scope.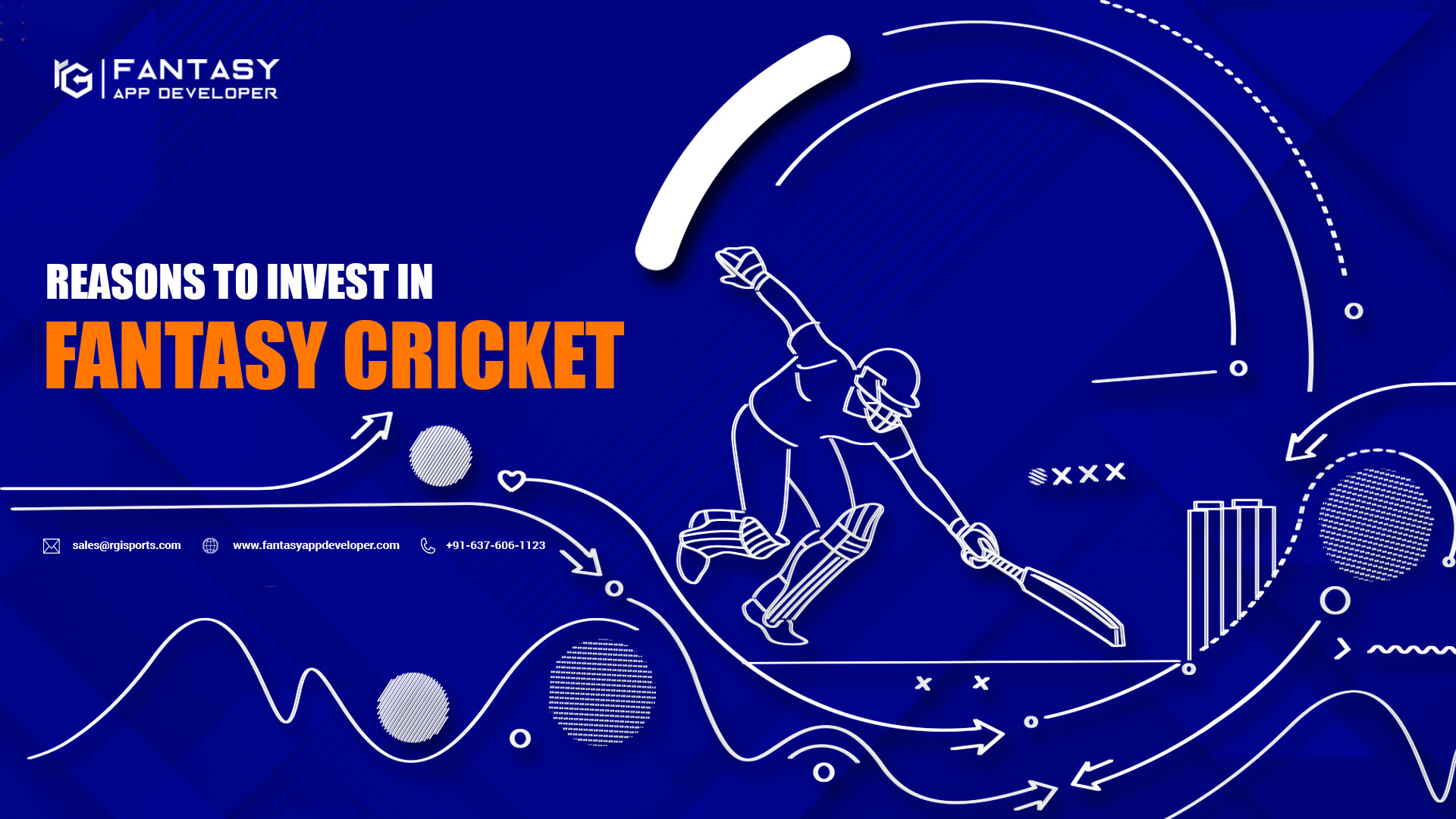 Moreover the future scope, fantasy cricket can also be consider for its thrilling excitement, user engagement and obviously the market scenario. Here are a few reasons that will make lure you to invest in Fantasy Cricket:
Cricket tournaments and leagues shower opportunities on cricket fans throughout the year. There is a long queue of cricket events that are waiting for you, starting from IPL, Big Bash League, ICC World Cup, T20 etc. Right now fans are enjoying the Women ICC World Cup and the biggest T20 league IPL is on its way. The Cricket Calendar is tight, so a fantasy cricket platform owner can offer more opportunities to sports fans compared to any other sport. Hence missing such a billion-dollar idea, will be your loss only.
02. Demographics and Audience
No other country's audience will be a perfect fit to launch your own Fantasy Cricket App. Time to turn the passion of Indian cricket fans into an earning opportunity for yourself. Studies show that Fantasy Cricket is the most played fantasy sport and the user base of the sports industry is growing exponentially.
Besides India, other countries like England, Australia, South Africa, Pakistan, New Zealand and Sri Lanka are other big demographics to host your Fantasy Cricket platform to generate huge business. A huge user base and interest in the industry is directly proportional to the growth of your business.
Fantasy Sports is not that popular in India, but it is for sure gaining the attention of sports fans with time. Indeed a few big giants are operating a successful Fantasy Cricket platform. But there is a wide scope in the market to establish your own Fantasy Cricket business and make money out of it.
In India, the legalisation battle to prove Fantasy sports – a game of skill, all started with a battle between the Supreme Court and Dream 11. And Dream 11 successfully proved that Fantasy Sports is a game of skills. And now most of the states consider Fantasy Sports a game of skill that is legal to play and promote.
One of the biggest to invest in Fantasy Cricket in 2022, is that no businessman or fantasy sports platform need to face any legal issues. However, before launching the app all over India; check out the laws and rules in Indian states individually.
Looking skilled developer for your Fantasy Sport App? Or Exploring a ready-made solution? Let's discuss with us on coffee.
05. Association with Big Brands
The growth and increasing user base of Fantasy Sports, attract the attention of big brands and encourage them to invest in the online gaming industry. With the scope of lucrative business and opportunities, Fantasy Cricket platforms attract more investment compared to other platforms.
If you are worried about the investment and money to operate your Fantasy Cricket platform, just invest in the beginning. Rest the money and sponsors will come to you after looking at the business you can get them.
Who wouldn't like the offer of generating huge revenue with low investment? Here you have a chance by investing low; you can extract lucrative business. Just spend once to get the best Fantasy Cricket apps in the beginning and enjoy the business of billions every day.
Why not launch the Fantasy Cricket app before the IPL 2022, and do some practice for the biggest T20 season?
It's the right time to launch your cricket app and with IPL T20 get ready for other leagues and tournaments. There might be some bugs or app performance issues, but you can resolve them before getting too late. It's just the beginning of the year 2022, and there will be more cricket leagues/tournaments waiting for you! Don't wait for the peak season of the Fantasy Sports industry; invest in the Fantasy Cricket app today!
Cost to develop Fantasy Cricket App In India
In India, the cost of developing a fantasy sports platform is a lot cheaper than the app development services available in the US, UK and Australia. However, calculating the estimated cost of Fantasy Cricket is not that easy, as the whole procedure affects the total cost of building a Fantasy Cricket app.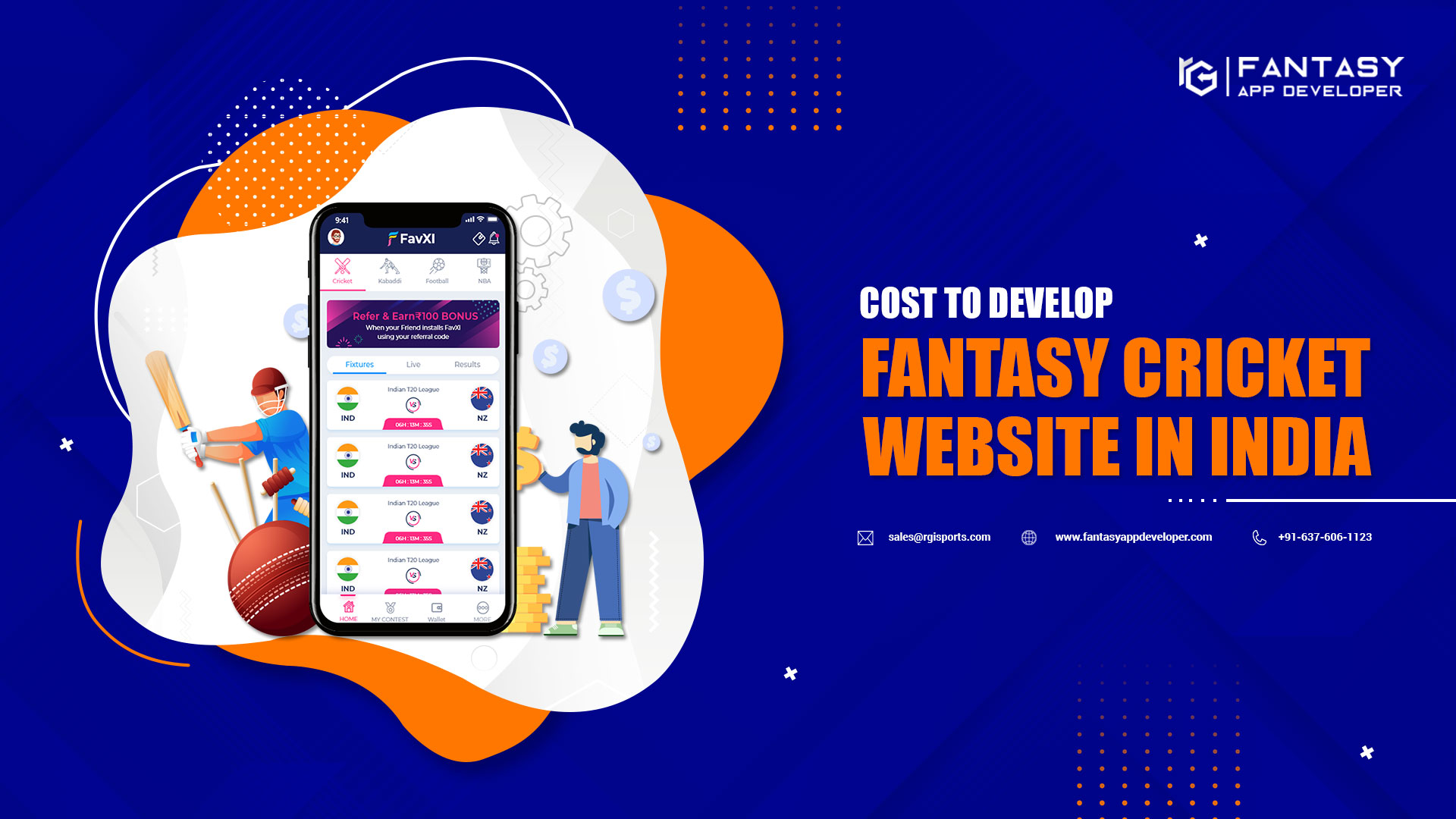 The number of working hours on each step of the app development process decides the total amount. Usually, Fantasy App Developers work 8 hours a day and $25-$40 is per hour cost.
Here is a short glimpse of the estimated investment required to develop a Fantasy Cricket App:
Research Analysis requires 10 days and the cost is $2000-$3200
For UI Design and App Prototyping, 15 days require a $3000 – $4800 investment.
Code Development needs min. 60 days with an investment of $12000 – $19200
App Development is a 50-day long process and costs $10,000 – $16000.
To remove all the bugs from the Fantasy Cricket platform, at least 20 days require with charges of $4000 – $6400
Hence, the total estimated cost of
Fantasy Cricket App development
is $31,000 – $49,600. However, the cost is variable based on the type of technology and resources used for the Fantasy Cricket app development.
Hope, your both concerns are mentioned and answered well with helpful information to take a step forward. It is advisable to hire experienced Fantasy App developers so you can take advantage of their experience and develop a user-friendly app to get a huge user base.