Fantasy sports is a game of skills where each player gets an opportunity to create a virtual team consisting of real players. Instead of selecting the team players randomly, participants can choose real sports players based on the information available online. According to top sports betting software development company, there are mainly two ways through which players can place fantasy sports bets: one by placing bets on fixed odds markets or through online competitions, a more popular method where winners get to keep a portion of the total cash prize just like in pari-mutuel betting.
Fantasy sports betting is a common theme in AFL and NRL and it is also available in other popular international sports betting. Several large-scale and small-scale businesses are showing interest in sports betting software development to make huge profits from this rapidly developing industry. The success of the fantasy sports platform highly depends on the features and functionalities your software provider offers. Here, we're exploring major features and functionalities that need your attention while selecting the best sports betting software developer and improving the experience of the end user.
What does fantasy sports betting mean?
Fantasy sports betting is a form of online gambling in which players draft a virtual team consisting of real-life players to compete and defeat other player's drafted teams. In a fantasy sports tournament, your created team gets the opportunity to earn more points based on their performance and skills, unlike the traditional sports betting format where you score points by competing against other virtual teams.
Looking for tailored fantasy sports betting software?
Talk to our expert developers to discuss the software in detail.
With an assured high performance, high load balancing capacity and real-time data analysis features, RG Infotech lead the market and offers an intuitive sports betting solution at a modest price range.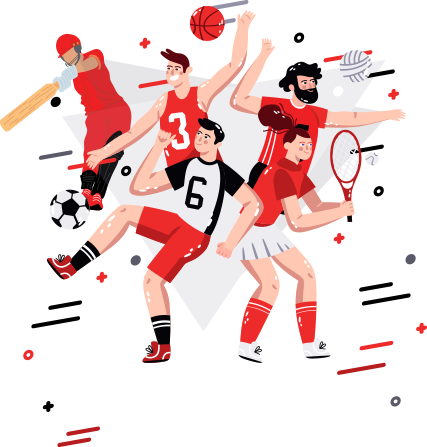 The sports betting software platform supports various fantasy sports games. But amongst all, football, basketball, baseball, hockey, and soccer are the most popular.
What exactly is fantasy sports betting software development?
Turning offline betting into an online betting software system is the main thing in the development of sports betting software. But rather than making blind bets, users need to use their skills and intelligence along with an in-depth analysis to bet on fantasy sports betting platforms. With the use of advanced technologies like blockchain or cloud, these platforms can be highly secure and efficient by partnering with professional betting software development companies.
The growth of the ultra-fast internet, the changing mindset of youth and capturing the avarice of people to get entertainment, and excitement with a chance of winning real money is the main reason for increased interest in fantasy sports betting software development. Many big countries like the US are legalizing sports betting for their citizens. Merchants and traders looking for ways to make themselves involved with the creation of their iGaming solutions.
The potential of this mega industry is visible in the significant market growth of online sports betting software and betting platforms over the last few years, and there are no signs of its falling in upcoming years. A vast variety of fantasy sports events are also a big contributing factor in the increased interest and involvement.
What are the important features of sports betting software?
To make it more adaptable, Sports betting software developers need to add all essential feature along with advanced functionalities into their best Sports Betting Software. However, some of the features are necessary for the smooth and seamless operation of the betting platform, such as:
An appealing platform for mobile sports betting software must be able to provide a wide variety of diverse fantasy sports for users to place their bets on. Promoting seasonal sports is another popular way of gaining people's interest in your software. For instance, during a regular season of the NFL (National Football League) according to a study of variety, a shocking 72% of NFL fans place bets weekly. So, it's crucial to serve as many sports fans as possible for you.
- User-Friendly Interface
It is important to add a user-friendly and intuitive user interface while developing virtual sports betting software. It is vital for gaining the interest of users and keeping them engaged. Fantasy sports stock market providers should integrate a visually appealing and easily navigable betting platform that offers a seamless and engaging user experience. Consider using features like intuitive dashboards, smooth onboarding processes, interactive trading rooms, and comprehensive statistics of players, to improve user engagement.
- Real-Time Data Integration
Robust platform development for sports betting software for bookies requires real-time incorporation of sports market data. The availability of real-time data allows users to make better decisions and actively follow the stock market within the gaming environment. Make sure that the providers you choose for sports betting software development services will seamlessly integrate data feeds from trusted and reliable financial sources.
- Support and Maintenance
Make sure that the fantasy betting software provider you select provides long-term support and maintenance services. To address the technical issues you face, and provide updates, and platform enhancements, there should be a qualified and professional support team should always be available. This comprehensive support and maintenance ensure the smooth sailing of your betting platform. It also guarantees a positive user experience and reduces errors and disruptions.
- Betting Markets and Odds Calculation
Sports betting enthusiasts take great interest in a diverse range of sports betting markets. The AI sports betting software should cover various types of fantasy sports, tournaments, leagues, and events considering the preferences and requirements of a wide user base. It should also include popular sports such as basketball betting software, baseball betting software, football betting software, cricket betting software, kabaddi betting software, and niche sports betting software.
- Secure Payment Integration
Transaction security holds the utmost importance in fantasy sports betting software. By including a secure payment mode, users may confidently make monetary transactions of the winning amount. To accommodate customers with different preferences and requirements, the platform providing the best sports betting software solutions should accept several payment options, such as bank transfers, credit/debit cards, and cryptocurrency wallets.
This is a crucial feature to consider while looking for fantasy sports betting software. Betting history provides a detailed view of users' previously placed bets and also tracks the amount and bets they win and lose along with the current position. With the help of this feature, customers can easily manage their bets whenever they like.
Looking skilled developer for your Fantasy Sport App? Or Exploring a ready-made solution? Let's discuss with us on coffee.
Admin side features of fantasy sports
To manage your app's data and information, update relevant details, and keep a watch on customer activity, you will need the assistance of the admin side features of a sports betting application. During the development of administrative features of your betting app, both you and your developer should pay close attention to creating an advanced admin control dashboard. Make sure the admin panel gives you access to modify, update, and edit the content of the application including the betting options and sports events. Incorporate the following admin control features as a part of your UX design:
01. Payment tracking: Since you have the support and assistance of financial streams, you can use the assistance of a tracking tool to keep track and manage all the records of payment transactions (deposit and withdrawal) done through the app.
02. Payment processing: Payment processing is a series of steps that streamlines communication between admin and customers. It gives admins access to process payments and manages authentication verification, transaction validation, and monetary transactions with the help of a secure payment portal.
03. Data analysis: With the use of the data analysis feature, you will be able to understand usage trends, get access to track user engagement levels, notice any behavioral changes in customers, and make crucial changes, improvements and updates to the application.
READ MORE ABOUT FANTASY SPORTS BETTING!
04. Customer management: Features included in customer management allow the admin to keep track of customer activity, manage user accounts, and quickly respond to customer's complaints and questions.
05. Betting management: Bet management software is a specialised custom platform dedicated to streamlining and automating several aspects of managing bets and wagers. This feature authorizes admins to supervise all the betting made including the placed bets, settling bets, and cancelled bets.
06. User management: The included in the user management aspect are: permissions, user access levels, and account management. It will provide access and a detailed record of who has access to what data within the application and help keep track of it.
07. Odds management: This particular feature of sports betting software management helps admins to track and manage the odds for various sports activities and events along with betting markets.
08. Marketing and promotions: the important features included in marketing and promotions should be: discounts, seasonal offers, campaigns, and other promotional offers to gain the interest of more users.
The above-provided details and information talk about the key features of
fantasy sports betting software
. Some of the key features we highlight in this blog are real-time data integration, a variety of sports, user-friendly interfaces, secure payment integration, advanced analytics and reporting, betting history, and ongoing support and maintenance. If you are a business looking for world-class fantasy sports betting software development, we could be your best choice.
Explore more frequently asked questions to clear your doubts about Fantasy Sports Betting Software. If you have more to ask, feel free to leave a comment!