Undoubtedly, fantasy sports is turning into a platform for cheering, forming gaming strategy, enhancing the virtual sportsmanship. Fantasy sports offer an online environment that lets participants with multiple jurisdictions, unknown to each other, to simulate certain aspects of a real-world sporting event.
The credit of this sudden leap of growth goes to the increase of user-friendly platforms of fantasy sports and wider internet reach across the country. Digitalization is among the major influential factors that leads to the arrival of many more fantasy sports apps.
This rapid expansion of growth is the result of better access to the internet that many tech-savvy individuals (mostly millennials) can now have. A newly launched NITI Aayog draft document observes that the industry holds the capacity to attract $10,000 crore in FDI in the upcoming years.
By 2022, India will surpass 829 million smartphone users, which will undoubtedly increase the number of sports enthusiasts that participate in fantasy sports. In light of this, select a few considerable elements that will help in determining the fantasy sports development in India.
Overview of fantasy sports industry
Because of how fragmented the fantasy sports market is, businesses build on strategic and well-thought collaboration activities to grow their market share and profitability.
Looking skilled developer for your Fantasy Sport App? Or Exploring a ready-made solution? Let's discuss with us on coffee.
Meanwhile the mid-size and smaller businesses are expanding their market presence and visibility by gaining new contracts and entering new markets as a result of technological advances and product breakthroughs. NFL enterprises LLC, FanDuel Group, Yahoo Fantasy Sports LLC, CBS Sports Digital, and others are some of the leading market participants.
In April 2023, Yahoo, an American multinational technology company, purchased a social sports betting start-up named Wagr in Nashville. Despite the fact that the financial details of the transaction are not identified, details of the transaction are not known, it is widely believed that Yahoo, which is now owned by Apollo, purchased the business to improve its position in the fantasy sports industry. By integrating Wagr into its business, Yahoo hopes to advance its goal of creating and offering the most fascinating fantasy and gaming products while promoting teamwork among employees. 
In September 2022, SharpLink gaming Ltd., which is a major provider of user engagement and conversion solutions for the American iGaming and sports betting industries, made an announcement that it has signed a merger agreement and plan in which it would completely take over SportsHub Games Network, Inc. which is a renowned company that offers fantasy and sports games, in an all-stock transaction. Through this transaction, SharpLink will gain access to a significant fan base of fantasy sports players who (as far as the company is aware) engage in sports betting or who are likely to begin doing sp once sports betting is legalized in their home states.
What is the Industry's contribution to India's economy?
Attracted INR 15,000 crore in FDI up till FY22, and it is anticipated that this amount will reach INR 25,000 crore by FY27.
tax contributions totaling INR 4,500 crore. Within the following five years, this is anticipated to reach INR 26,000 crore.
From Rs. 2,800 Cr. in FY18-FY22 to Rs. 14,700 Cr. between FY23 and FY27, GST contributions from the fantasy sports sector are anticipated to increase by five times.
12,800 new high-skill positions were created throughout the economy, having a much higher impact on society and the larger ecosystem.
In FY22, 7,500 professionals were indirectly hired by FS platforms. By FY27, this number is predicted to increase to 10,500.
What are the major trends driving the future of fantasy sports?
For sports lovers, fantasy sports offer a really interesting and interactive experience. Fans can display their knowledge, skills, and strategic prowess as it adds another level of excitement and competition. Here are some ground-breqking trends that are reshaping the future of fantasy sports.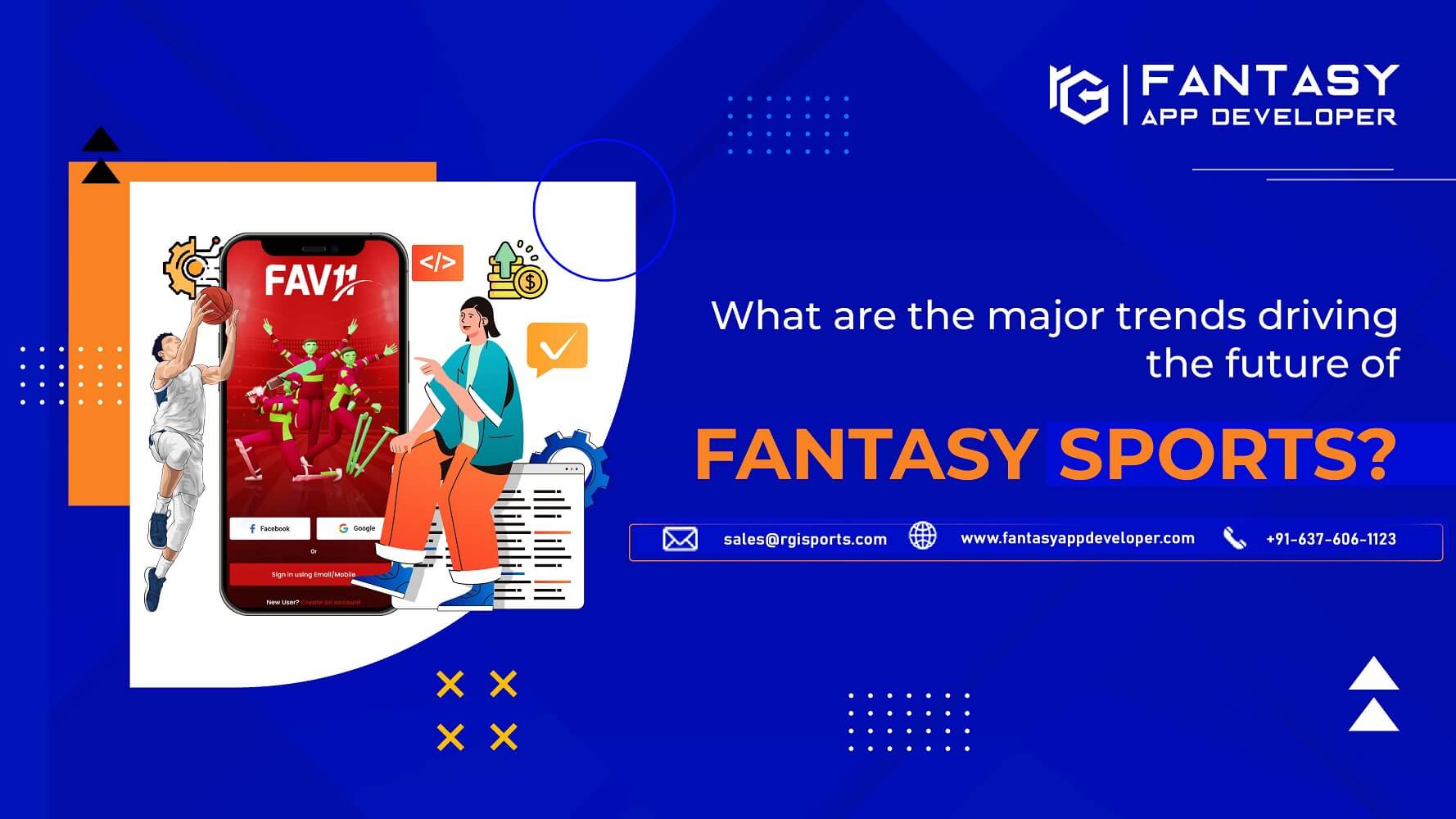 India has around 390 million gamers, and this figure is predicted to rise to 500 million by 2025 because of the rapidly evolving mobile gaming sector. At present, the craze of fantasy sports leagues such as the Indian Premier League (IPL)and the National Football League (NFL) is influencing the rise of demand for fantasy sports in India. However, more people nowadays are adapting e-sports and virtual gaming as it has become an incredibly popular global trend.
Additionally, including these latest games to the platform would strengthen India's general fantasy gaming industry because you need to maintain a perfect balance between supply and demand.
- Technological advancement
People are always looking for more connected ways in order to play and engage with their favorite activities as technology develops. The major number of participants are sports aficionados who use online simulations to keep it beside the results of their favorite matches and athletes.
With the use of replacements and power-ups, these revolutionary technologies will increase the 'closer to reality component' of how people engage with the activity on the field. The growth of India's sports culture and ecosystem will be heavily influenced by the involvement of AR and VR.
It will also be helpful to gather to do a thorough research and collect all information on fan behavior that can be used to adapt services to fans, creating a situation where everyone wins.
Looking skilled developer for your Fantasy Sport App? Or Exploring a ready-made solution? Let's discuss with us on coffee.
- Increase in investments
Over the past few years, video games have become a common form of entertainment for many individuals, particularly the younger, tech-savvy age. Indians are becoming increasingly interested in fantasy sports. Cricket, football, and kabaddi fans can now feel more connected and involved than ever thanks to sports fantasy games and competitions. The number of gamers will increase by 170% between 2019 and 2021, according to study.
The past five years have seen investments totaling over $112 million made in fantasy sports platforms, one of the fastest-growing segments of the gaming business. In India, the market for fantasy sports is anticipated to grow at a 32% CAGR and reach 2.5 billion by 2022, according to a Ficci-EY poll.
- Sponsorship and celebrity endorsement
Fantasy sports providers are already looking for various solutions to engage their users as a full-fledged major sports league is set to launch in two years. One of the finest ways to keep a step ahead of the curve and acknowledge Indian sports fans' ardor is through team sponsorship and celebrity endorsement. These partnerships' potential for exponential expansion in the market is what really motivates them.
There were 444 brand endorsement deals, 318 of which involved cricketers, in 2021, according to a research. Spending on sports star endorsement climbed by 11% annually.
What is the development cost of a fantasy sports app?
The first thing that comes to mind when thinking about how to construct a fantasy sports game is between $25k and $80k. However, the price may change according to your needs. The following are some of the most important elements that will help you decide the cost of your fantasy sports app, regardless of whether you are working with a top fantasy sports software development business like RG Infotech or contacting a group of remote game app developers.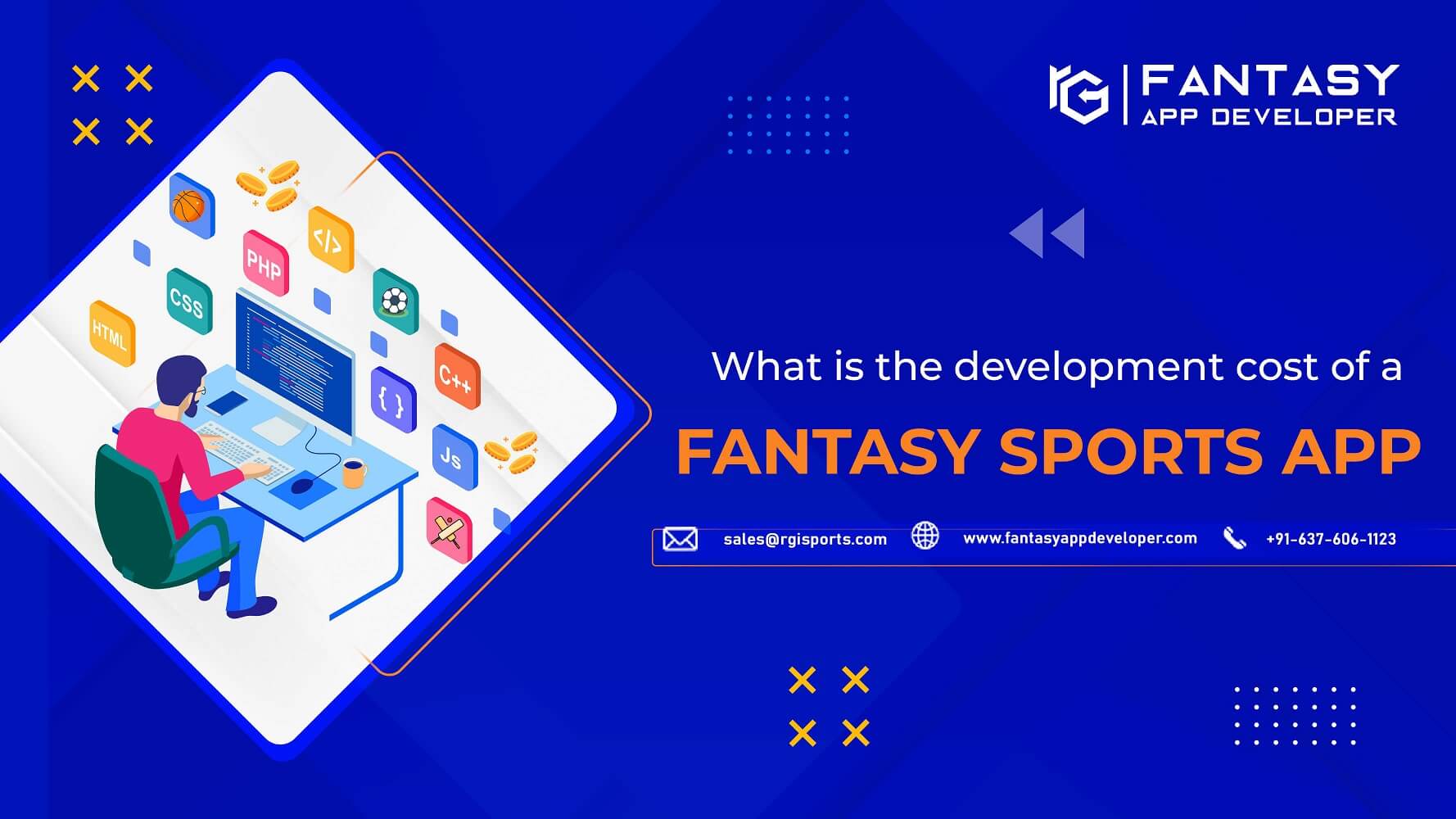 The platform on which you want to develop your fantasy sports application is among the most important factors of the fantasy sports app development cost. There are two important things you must consider and be clear of before handing over your project to the development team or any development company and those things are choosing between Native or Hybrid and selecting platforms on which you want your app to run.
Well, if you have never been into this fantasy sports development business, then you consult the support team of the company to get an idea of which platform will suit the sports app you want to develop.
- Front-end and Back-end Development
Web development contains a part called front end development that codes and creates front end elements of a website. It mainly contains the features that are directly viewable to any end-user or client can they easily access it. In contrast to the front end development, which focuses on customer-facing programs and products, back end development addresses the logic of server-side web apps and integration.
An application has both front-end to be developed, and selecting the correct tools and technology for its creation is an important decision. It also contributes a lot while calculating the total fantasy sports app building cost.
Whether you want to build an app for fantasy sports or sports team management apps, each comprises some unique features and functionalities. For instance, if you ever decide to create an app for fantasy sports, it will require functions and features like team administration, push alerts, numerous account support, and more. As a result, it's probable that the project's developers will have to incorporate the third-party libraries.
The price of creating your program could go up as a result, or occasionally it could go down. Whether you want to build a fantasy sports app or a sports team management software, each has unique features and functionalities. As an example, let's say you decide to develop a football fantasy sports app.
- Location and Size of the Development Team
The cost of development as a whole highly depends on the intricacy of the fantasy app and the location of your app development company. Therefore, it is suggested that you consider both of these criteria. Once these elements have been chosen for your fantasy sports application, you can get in touch with any reputable fantasy sports game development business to find out the precise sum.
The above provided details and information talks about the future of fantasy sports. Rapid technical advancements are quickly transforming the iGaming practices and trends. The several past years have witnessed a great deal of fantasy sports development in this sports industry. If you are a business looking for a fantasy sports app development with the latest trend and technology, then our experts are here to help. Stay tuned for more informative updates.