The gaming industry is constantly changing with cutting-edge technology and tools, which are constantly improving online games and taking the game industry to the next level. This is increasing the engagement in online gaming and encouraging developers to build advanced online gaming apps that keep the audience engaged. '
To get the attention of online gaming users, a fantasy game developer should know about "what a gamer would possibly want"?
Don't limit your thoughts to the gamers only, consider what common people expect from a gaming platform. Why do they invest their precious time in such online games? Yes, the answer is Money!
For any gamer, winning real money in a game is more valuable than winning an AK 47, new look, or other in-game rewards. 
Here we have discussed the usage of Unreal Engine to build play to earn games and why UE is used best to create such games:
What is an Unreal Engine?
Epic Games developed unreal Engine in the year 1988 for a first-person shooter game. Right now it's a game development engine that is used to create fighting games, play-to-earn games, RPGs, Stealth, and more. It uses C++ coding and this tool is quite popular among game developers. 
Why do we need a Game Engine?
The game engine is required to develop an advanced gaming interface that enhances your game playing experience. When we design the basic concept or scripts of the game, a game engine is the first requirement. This gives liberty to game developers to modify the features and tools as per the requirement. 
Match Made in Heaven - Gaming, Crypto Metaverse
Crypto Metaverse is not merely a trend but a shift in the gaming era to automatic gameplay. Nowadays, gaming organizations are following the tokenization of their in-game assets to allow them to align with the new decentralized gaming sector. This integration meets with today's modern gamer specification as it allows users to control the in-game objects like tokens, cards, skins, and weapons.
The in-game purchase options help developers form a deeper connection between the game they play and the in-game currencies. As the user starts winning, trading, and growing in the in-game asset the user feels more encouraged to be a part of the virtual Metaverse. No matter what a user is purchasing from non-fungible tokens, he feels a sense of belonging. These emotions play an important role in the success of the play for game platforms. 
Play-to-earn gaming like Fantasy sports apps has recently enjoyed real attention from gamers and is going to grow more in the future. As the whole world is talking about NFT and digital assets/currency, developers are rushing towards integrating non-fungible tokens with online gaming.
Online gaming is a big marketplace for NFT development. However, developing a game with in-game tokens is not easy. There are numerous challenges like royalty payments, copyright, data pack usage, graphic design visuals, ownership, and cost. Currently, all NFT developers are facing these issues. To deal with such issues, developers must use a robust engine to design and develop the play to earn a platform.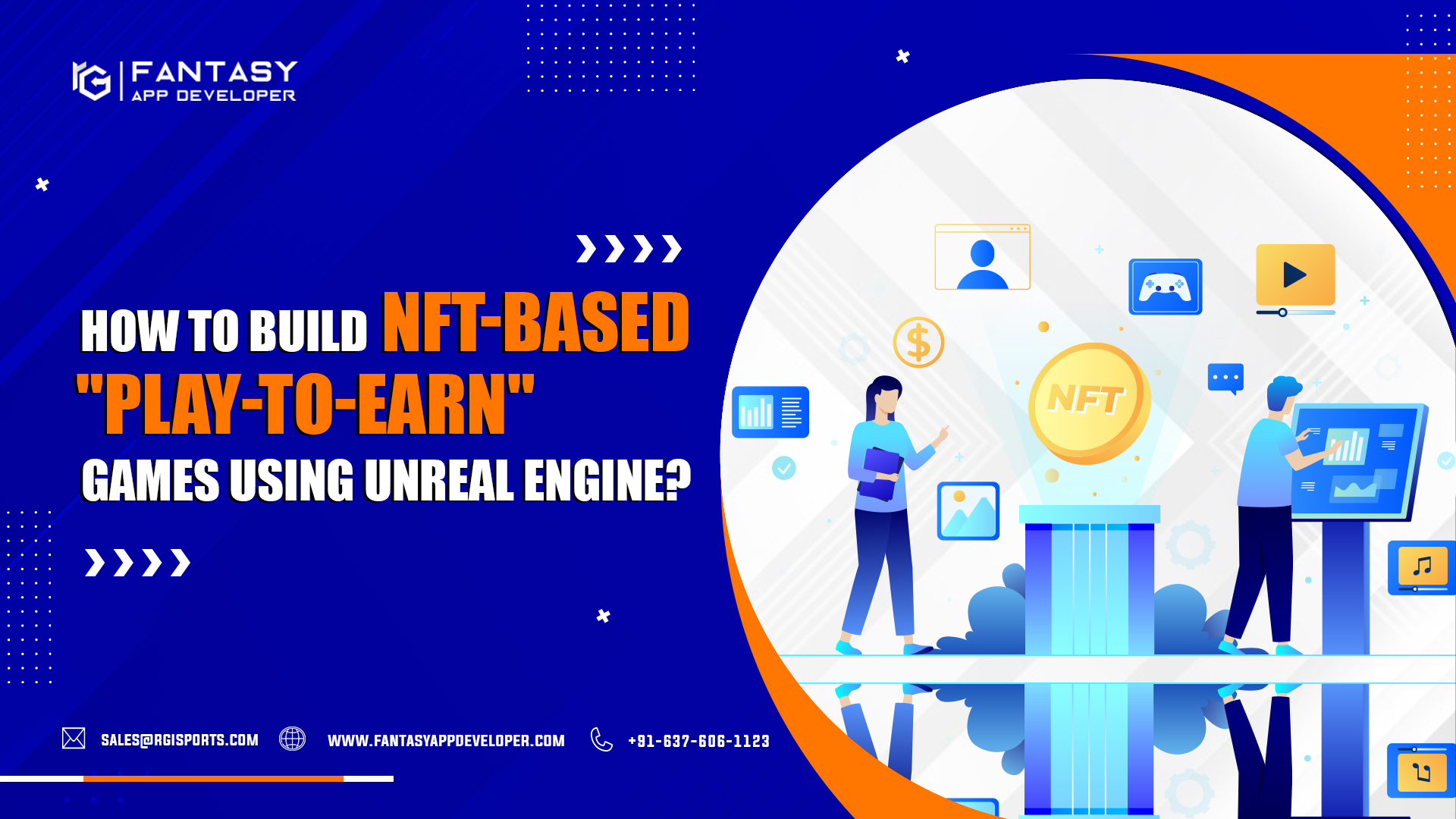 Why Use an Unreal Engine?
Are you wondering why Unreal Engine is best for NFT marketplace development? We have jotted down a few reasons to clear your doubt. 
One of the most outstanding advantages of using Unreal Engine is customizability. It allows access to virtual products, collectibles, and game rewards. The deeper a user will go into the virtual world, the more in-game assets he/she has to purchase. It's a great deal for developers which helps them to create a cutting-edge Metaverse world that complements the ideas and resonates with their consumer audience. 
There will be a new update in Unreal Engine where the platform will allow users to open the entrance of the virtual world for whomever they wish for. This enables users to live a second life in the game in which their real NFT holds tangible value. 
Unreal Engine eases the process of taxation for play to earn users. To earn money, gamers need to declare their earnings to the taxman. UE seamlessly converts transactions into tokens of tax with the integration of custom-made wallets. 
A game is not successful if the gamer doesn't have rich experience playing the game. Unreal Engine is designed in such a way that it can only meet the customer's specifications. By integrating Metaverse technology the developers can provide visuals that can provide a movie-going experience. 
In this 3D creation tool, you don't require experience to operate it; and it's easy to use. With each new update, it becomes easier for users to use and understand the UE. The new update of UE, Unreal Engine 5 has made the next-gen, NFT-based content creation accessible to all. After enrolling in the UE5 early access, begin with courses to learn how to explore the platform, how to execute your ideas, and how to successfully start with your first project. 
Looking skilled developer for your Fantasy Sport App? Or Exploring a ready-made solution? Let's discuss with us on coffee.
The online gaming industry is growing with the pace of technological advancement. Whether it's about fantasy sports platforms or any other online play to earn the gaAdvancednced tools like Unreal Engine is offering a huge platform to the game developers to create a customized platform as per the gamer's interest. Fantasy App Developers is also integrating advanced technology to design and develop robust Fantasy sports solutions.