The online gaming industry has changed dramatically in the previous decade, with the global business experiencing rapid expansion in recent years. India, too, has played an important role in this growth tale. After all, according to a survey performed by KPMG and the Indian Federation of Sports Gaming, India's online sector is expected to be worth a billion dollars by 2023. (IFSG). The paper, titled 'The Evolving Landscape of Sports Gaming in India,' focuses particularly on the country's strong preference for fantasy gaming. According to the estimate, fantasy sports platforms would have over 100 million users by 2021.
While skill-based fantasy games first appeared in the Indian market more than a decade ago, it wasn't until a few years later that the trend became popular. Following the debut of popular sports tournaments such as the IPL (Indian Premier League) and the ISL (Indian Super League), the fantasy sports market in India began to flourish. India's ever-expanding fantasy gaming community
Current Market Trends in Fantasy Sports in India
At the moment, fantasy sports dominate the online gaming industry, with millions of sports fans around the country participating. Anyone with a smartphone and internet access, from students to IT professionals, may join a fantasy sports player and receive attractive incentives in exchange. Typically, participants are requested to pay a small entry fee and form their virtual squad of real players (from one or both sides) who will compete in a single match or a league. Then they obtain prizes based on the actual performance of those selected athletes. The money is distributed to the winner via account transfer or digital wallets. Aside from cricket, which dominates the Indian fantasy sports market, non-cricket fantasy sports such as kabaddi and football are gaining popularity.
The fantasy sports category, while still in its early stages, is having a significant impact on the domestic online gaming market. With approximately 70-80 fantasy game companies currently operating, an increasing number of Indians are flocking to these platforms for amusement purposes. Furthermore, the fact that fantasy sports allow people to be active participants in a game that they are watching has played an important role in the industry's growth. As large firms and start-ups in this field work to improve the overall gaming experience, the future of India's fantasy sports market seems bright.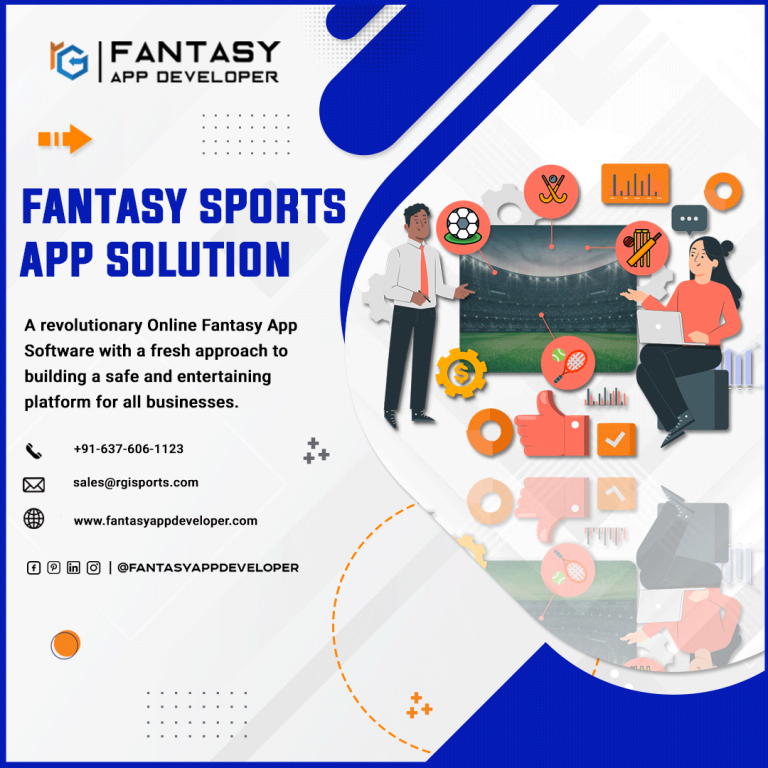 Since, most people love sports, everywhere in the world. As a result, it will be much simpler for a fantasy sports game app development firm to concentrate on a certain audience that has been patiently waiting for their preferred game. The best chance to increase gaming app downloads is right now. The fantasy games app, in contrast to other online sports betting sites, is regarded as legal in India. One may easily use this channel to generate income from commercial endeavors while also assisting sports fans in making money while taking part in their favorite activities. It's never too late to release your fantasy sports app, even if the season has only just started.
In fact, this is the ideal time to launch your fantasy sports website. The demand will undoubtedly increase due to the multiple events that are currently planned. No one will, of course, invest in a company that does not guarantee good returns or profits. A fantasy sports game is the finest method to get large returns on tiny investments. However, achieving it is plainly not going to be easy. If a respected corporation is interested in releasing your fantasy sports game on the market, the rest will take care of itself.
Only with the start of major competitions like the ICC World Cup, IPL, and several others that will occur soon will the cricket craze continue to spread. As a result, purchasing Cricket's Fantasy Sports apps is advantageous. There are still ongoing T20 and IPL competitions, and the craze is unstoppable. To generate big money from this fantasy sports app, the app development businesses must launch it as soon as possible. Currently, there aren't nearly as many fantasy sports platforms as there are users of these programs. Now is the ideal time to release your app and join the leading pack of similar apps.
Second consideration should not be given to investing in this market. Users who choose such apps for excitement, entertainment, and mostly for obtaining generous prizes find fantasy sports app platforms to be the most alluring. When you consider the enormous fan base that supports the need for such apps, this fact is simply justified. Many of these applications are currently transforming into the brand identity of numerous sports. Launching and creating one of these apps may lead to you becoming affiliated with all the major businesses.
Spend some time thoroughly inspecting the app before releasing it on the market, and request regular reviews from the developer of the Fantasy Sports App. Out of excitement, the corporation shouldn't launch the app blindly because even a minor flaw experienced by consumers could damage the app's reputation. To prevent any mishap, every section and component of the program must be carefully examined. Of course, nothing is ever flawless the first time. As a result, the business needs to inspect every element carefully and launch the product as soon as feasible.
Looking skilled developer for your Fantasy Sport App? Or Exploring a ready-made solution? Let's discuss with us on coffee.
Despite many challenges, fantasy sports have seen dynamic growth in the Indian market. Especially after the Covid-19 pandemic, fantasy sports have grown like never before and Indian youth especially have helped in the growth as well. 
We at Fantasy App Developer also work to make the best and the most affordable fantasy sports app, that will help in the increase of the sector and enable better earning for the youth. As this platform is growing day by day!