The $4.5 billion Indian online fantasy sports market is once again experiencing instability. The robust run rate of the industry is being threatened by tax problems, underscoring the need for a national strategy that can provide stability. Conrad Sangma, the chief minister of Meghalaya, led an empowered group of ministers (GoM) that unanimously proposed a flat-rate Goods and Services Tax (GST) of 28 percent on internet gambling, casinos, and horse racing on May 18. 
This effectively means that the GST rate on online fantasy sports, a significant segment of the online gaming market, will not only increase significantly from the current 18 percent but will also be applied to all online games without distinction, including those that involve betting and gambling or games of chance. This is by no means good news for an industry that has been fighting for a distinct line to separate games of skill from games of chance.
Online Fantasy sports are driven by young Indians
India's recent surge in online fantasy sports is evidence of how the country's youthful demographics are driving demand for digital services, including sports and entertainment. In just six years, 130 million Indians, or 10% of the nation's total population, have embraced the real-time online gaming model. Users assemble virtual teams based on actual players who are taking part in live matches and then compete using these teams' actual statistical results. The biggest fantasy sports market in the world right now is found in India. The scale of India's online fantasy sports market, estimated at Rs 34,600 crore, is already half that of the country's formal TV broadcasting sector, which was established in the early 1980s. 
Online fantasy sports may be considered a "sunrise sector" due to their youth, yet they have made significant economic contributions. In FY21, the sector generated 5,200 crore rupees in direct revenue, 5,500 crore rupees in indirect revenue, and contributed over 930 crore rupees in GST and more than 250 crore rupees in corporate tax. Over 10,000 crores in foreign direct investment (FDI) have already been attracted to the sector, and another 15,000 crores are expected to be generated over the following three years, according to estimates. 
Approximately 9,000 individuals are employed directly by Fantasy Sports Platforms (FSPs) or by auxiliary businesses that offer them technical and financial support. Online fantasy sports affect the entire sporting environment and have a significant impact on how India is positioned globally. According to a survey by Kantar and FIFS, 59 percent of fans of fantasy sports have begun following new sports like kabaddi, football, and hockey, while 48 percent now watch nearly every sport without regard to teams or nations. This rise in spectators has expanded the opportunities for monetizing sports and luring new capital. In addition, it is supporting the growth of a multisport culture in India by supporting the development of sports infrastructure outside of cricket.
Need for a centralized policy framework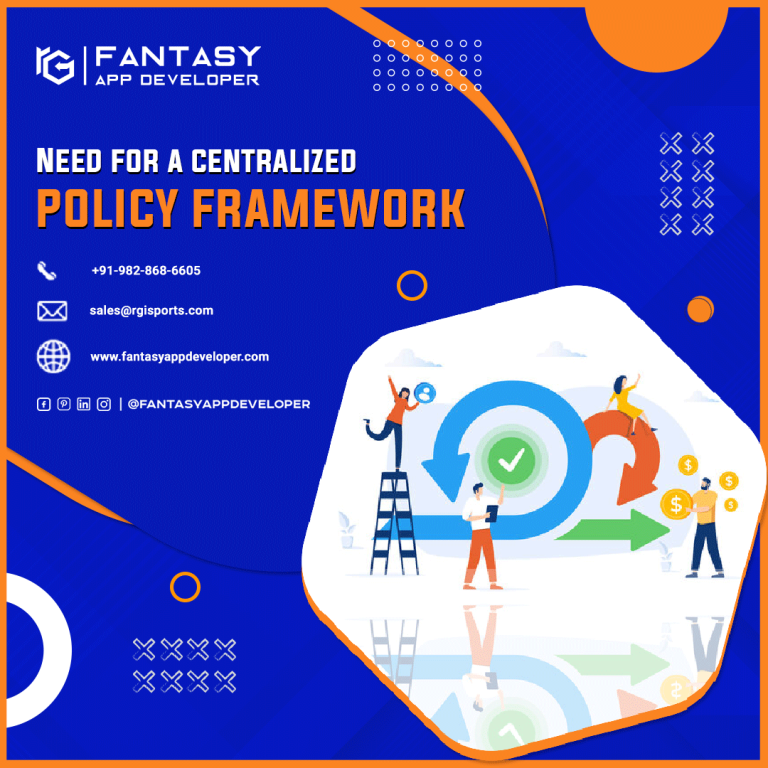 To this end, the apex public policy thinks tank NITI Aayog has recommended a "light-touch regulatory framework" in addition to the recognition of a single, national-level self-regulatory organization for fantasy sports in a 2020 paper titled "Draft Guiding Principles of Uniform National Level Regulation of Fantasy Sports in India." Such a policy's primary goal would be to distinguish clearly between "games of skill" and "games of chance" by determining whether skill or the element of chance is the main contributor to a successful outcome.
With this setup, a national policy would guarantee a model framework, bringing uniformity to the services provided by fantasy sports platforms, compliance with laws, and dispute resolution across the nation, as well as giving much-needed certainty to all industry stakeholders. The ongoing lack of such a top-down strategy would encourage fly-by-night operators, delegitimize the ecosystem, and maybe lead to the failure of a market for an economic model that has the potential to become a shining example of the national government's "Digital India" agenda. In addition to national-level policy, creating a parent ministry is essential, according to a white study paper by the think tank The Dialogue on "Regulation of Fantasy Sports Platform" in India.
The path forward is through education and awareness
All things considered, online fantasy sports operators must constantly engage with state governments and educate them on the economic shifts that can be made by embracing emerging technologies and the need to keep moral governance to a bare minimum, even as discussions about implementing a national-level policy continue. 
They must continue to adhere to the self-regulation charter they established, which includes, among other things, data privacy protection, improved protections to protect users from financial risks, and checks and balances to guarantee addictive behavior are detected by the system. Fantasy sports have seen impressive growth in India, which is proof of the ability of new technologies to open up new opportunities and cause major changes in society. Policymakers in the nation now have a responsibility to give these technologies the best chance of succeeding.
Looking skilled developer for your Fantasy Sport App? Or Exploring a ready-made solution? Let's discuss with us on coffee.
All these laws are highly important and everyone should know that this will help the fantasy sports platform to increase dynamically. A clear singular policy will make sure increased profits and more low risk for the users. If you are looking forward to getting fantasy sports for yourself, then you can freely contact Fantasy App Developers, that will help you make your own personalized fantasy sports app, the way you want.