In Canada, the US, and India, the percentage of people who use fantasy sports apps has risen to all-time highs. The initial thousand users have been replaced by millions. The different components that make up the overall ecosystem include draught parties, merchandising, real-world game tickets, internet gameplay, and sponsorship. The fantasy sports sector, which has the potential to expand dramatically, has benefited greatly from the development of technology. Over the past several years, the market for fantasy sports apps has expanded quickly, and in the years to come, it is projected to expand even more quickly.
Fantasy sports are tapping this passion for sporting events. Gaming is a well-liked pastime across the country. Fantasy sports are unquestionably becoming a platform for cheering, devising gaming tactics, and enhancing virtual sportsmanship. Over 829 million people will own smartphones in India by 2022, which would raise the proportion of sports lovers who play fantasy sports. In light of this, the growth of fantasy sports in India will be influenced by a select few essential factors.
Fantasy Sports Industry: An Overview
An entertaining, low-cost, and low-effort online prediction game called Fantasy Sports App is played on mobile devices and allows participants to assemble a digital squad of real athletes. They acquire points based on how well the athletes perform in actual sporting events, which are then turned into fantasy points. 
The two most popular fantasy sports are daily fantasy leagues and season-long draught systems (DFL). The fantasy sports website offers a variety of sports for participation, primarily from the Indian Premier League (IPL), English Premier League (EPL), and National Basketball Association (NBA), among others. These sports include football, cricket, basketball, golf, soccer, and hockey. By enabling users to play and participate in the app, the app keeps spectators interested in the real-time game taking place on the field.
Factors that Affect the Growth of the Fantasy Sports App Market
The market share and sales are impacted by several things. The fantasy sports market has grown recently, but it's important to look at these factors to make sure that it continues to grow quickly.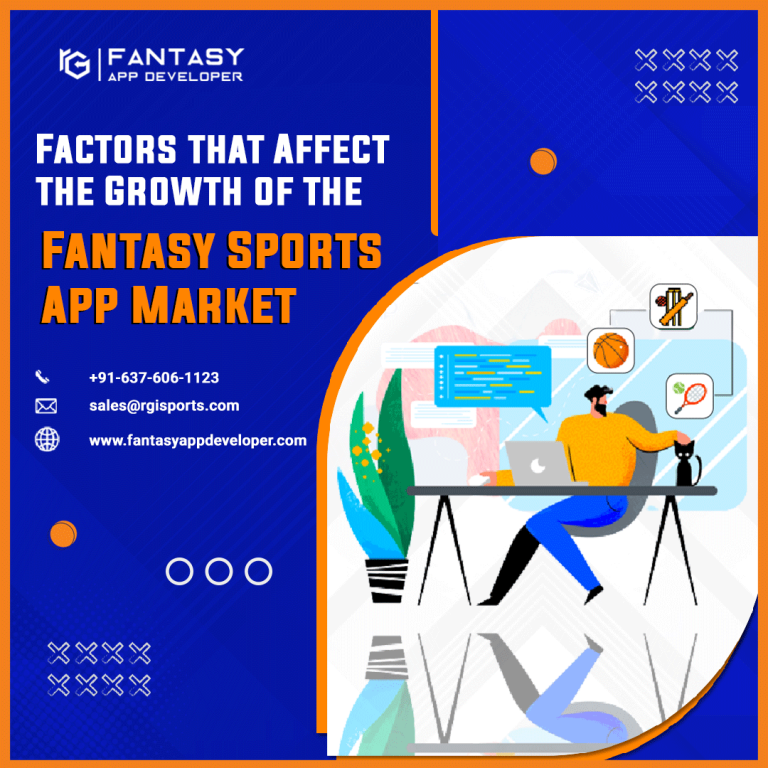 01. Enhancing Collaboration
In the past few years, this sports business has seen a variety of partnerships and forms of collaboration. It is important to emphasize how to make your collaboration run with smoothness.
02. Make the marketing and advertising investments
The cost of the marketing and advertising strategies used by the fantasy sports app sector should be high. It works well as a marketing strategy for the fantasy Sports app sector because the main goal is to loosen restrictions on these applications in the Indian and US markets. To capture the interest of a global audience who appreciates cricket and other sports, it is highlighting a crucial issue to pay attention to and take into account.
03. An increase in audience interest
The millennial generation, which includes those who use cell phones and the internet, is the one that is now in existence. One of the imaginative and technical hobbies that people of this age engage in is a fantasy sports app. The graph shows that more people are expected to use the internet, which will lead to a rise in demand for fantasy sports apps.
04. Globally, there are more sporting events
Sports events of all kinds have been held during the past few years, and the number of competitions is rising worldwide daily. Every sports fan has a favorite sporting event, therefore if a certain software allows users to play those sporting activities online, it will likely become more popular.
05. Uses a desire to take part
Instead of only viewing the game in their application, users are increasingly interested in participating. It has become the most well-known fantasy sports app market thanks to consumers' desire to participate. People today are more interested in getting involved and demonstrating their generosity than they are in watching sports on their televisions or mobile devices. However, not everyone can participate in actual sports, which is why fantasy sports video games have become more and more popular all over the world.
06. Modernization of Technologies
The development of several fantasy sports apps that are simple to use and engage in is a major factor in the expansion of the fantasy sports market. Modern elements like the Loyalty program and participation batch encourage players to play the virtual game and compete for the chance to earn fantastic prizes.
07. More people using smartphones
According to the most recent report, internet penetration is already very high and is predicted to continue to grow in the coming years. This is the main cause of the rise in the popularity of fantasy sports applications because smartphones are widely available and frequently used. The key factors for the fantasy sports app market's increasing success are the widespread usage of smartphones and the accessibility of the internet.
08. Platform development for fantasy sports
Several companies have already been founded to create fantasy sports apps for various platforms, and it is anticipated that more will do so in 2022 and 23. More fantasy Sports app firms will expand and find it easy to function because they have many platform development companies working with them. These companies offer their fantasy sports app firms complete support so that they may run smoothly and profit from them.
09. Development of OTT Platforms
The number of OTT platforms is growing, and users may simply access all of them. The entertainment industry will gain the most from the collaboration of OTT platforms and fantasy sports application development to produce stronger, more reliable growth.
Looking skilled developer for your Fantasy Sport App? Or Exploring a ready-made solution? Let's discuss with us on coffee.
Over the past several years, there has been a significant uptick in the development of fantasy sports apps, and this trend is projected to continue. The aforementioned elements had an impact on the expansion of the fantasy sports market and industry. If one can put their focus above the viewers in the current atmosphere, their fantasy sports app business can rise. For a trending and successful fantasy app, you can contact Fantasy App Developers. Want to know about the trends in fantasy sports? This blog will help you out, Trends Reshaping the Fantasy Sports Industry In 2022-23