These days, fantasy sports are hugely popular. Fantasy sports enable players to create their fictional teams and take their favorite sports outside of the arena. Real players make up the rosters of imaginary teams. Based on the statistical performance of the actual players, these teams compete. Such software is created by several reliable fantasy sports companies. They integrate cutting-edge technology based on fantasy options into a variety of sports, including basketball, football, cricket, soccer, and many more. 
Let's start with the steps to build a fantasy sports portal software solution:
Starting a fantasy sports company can be done for a variety of reasons. You must maintain a revenue model and wider company goals if you wish to succeed in this industry. Different people have various goals and intentions. For instance, if you are a sports business, your goal would be to increase engagement and growth. Some brands may also want to promote their products. Your ability to make sensible decisions will be aided by a well-defined purpose.

You need to research your target market. It is essential to success. Finding a specific audience segment will make it much easier to comprehend and satisfy their needs. You'll be able to give them the services they require. This will make it possible for you to upgrade your software with more useful features, including multilingual support.

Make a list of the sports or leagues that will be featured if you decide to create a fantasy sports website or app.

Every day, different types of data need to be managed. Locate reliable data sources, then carefully set prices based on the services they offer.

Ensure that your pre-launch strategy is carefully thought out. The most crucial component of success in any endeavor is planning. You can win any conflict in your life with careful planning and effective techniques. You can enlist the aid of partners or a development team. You might even enlist the assistance of your internal marketing department.
The Features that should be included without Fail
Sign-Up:

Allow users to sign up using their email address or mobile number.

Home Screen:

Information on teams, match schedules, team selection, match dates, points, money won, etc. should be included on this screen.

Profile Update:

The user's profile is included in the dashboard. Permit your user to update their profile on your app.

Create and Join Teams:

Allow users to easily contribute content or sign up for additional fantasy sports competitions with just one tap. Include options for participants, choosing a prize, and other features.

History:

This function will inform the user of his playing record and accomplishments.

Live Score:

To follow the game, your user must be able to view the live score.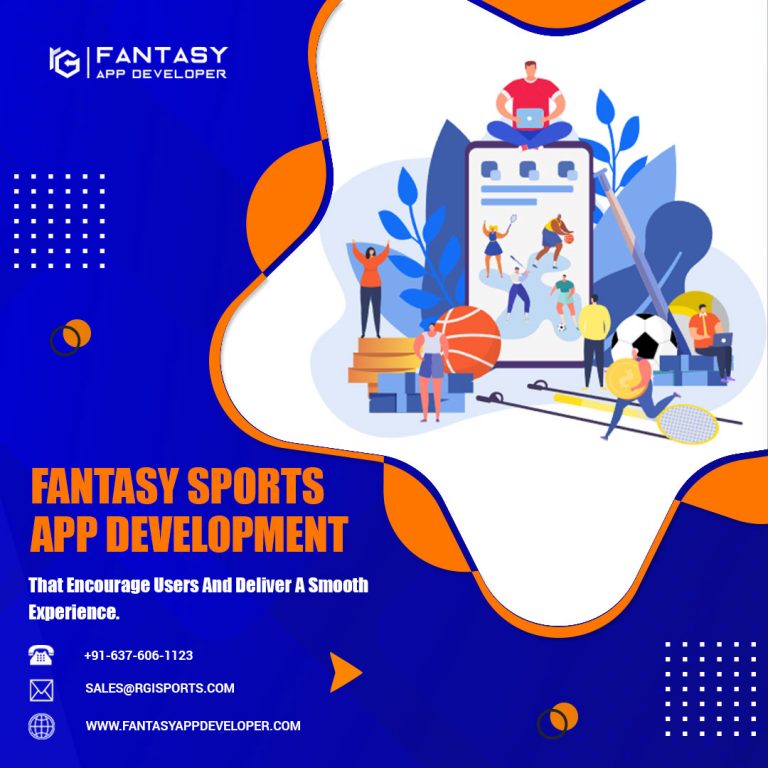 The interface must have a clear, uncomplicated, and interactive design. A crucial component of any fantasy sports platform is the feed engine. Both historical information and current player statistics are shown. Your choice of game engines will determine the kind of sports platform you have and the players you will draw to it.
Other Advanced Features of fantasy sports portal software solution
GPS Tracking System

Ways to Share Wins on social media

Multiple options for Payments

Loyalty Programs

Push-Notification

Real-Time Analytics
To increase the reach and engagement of your fantasy sports app, you may also add a few cutting-edge features—Technology Stack for Chatbot, API Integration of AL, and ML-based algorithms in merchandise sales. If you take the correct strategy, a fantasy sports app or website can be a huge hit. Be careful while selecting a mobile app development company for your app. Learn as much as you can about its resources because they will have a direct impact on how well your app performs.
The fantasy sports app that you have developed must be very user-friendly. The user should have enough access to all the activities and also games that are being played and hosted. Easy access to the leagues and also purchasing of the players should be an easy way. All these components can help in the success of your fantasy sports app. Now, you may ask what are the places where you can get the best fantasy app developed, and where would you get the best price for it? Then, your one-stop destination is "Fantasy App Developer." Here, you can get your fantasy sports app developed at the best price and also have your app designed the best, like no other.