Fantasy Sports are not new to the market. The market is loaded with hundreds of Fantasy Sports applications. But, not all the platforms are doing well and many factors are directly affecting their growth in the market. Features are a vital part of the Fantasy Sports industry, which decide the app's efficiency and functionality. 
Features make the app easy to use and navigate and provide a rich user experience to the customer. Here is the list of important features that need to be integrated from the Fantasy Sports Platforms to make it successful in 2022. 
Remember that a unique selling point or feature can only beat the market competition. Stand out with Fantasy App Developers. 
Basic Features required to make Fantasy Sports a success in 2022
Some features work as the foundation of the app. Without these features, any fantasy sports platform is incomplete. However, the only fantasy app developers who are working in the Fantasy sports industry for a long time, understand how these features change timely with evolution in technology.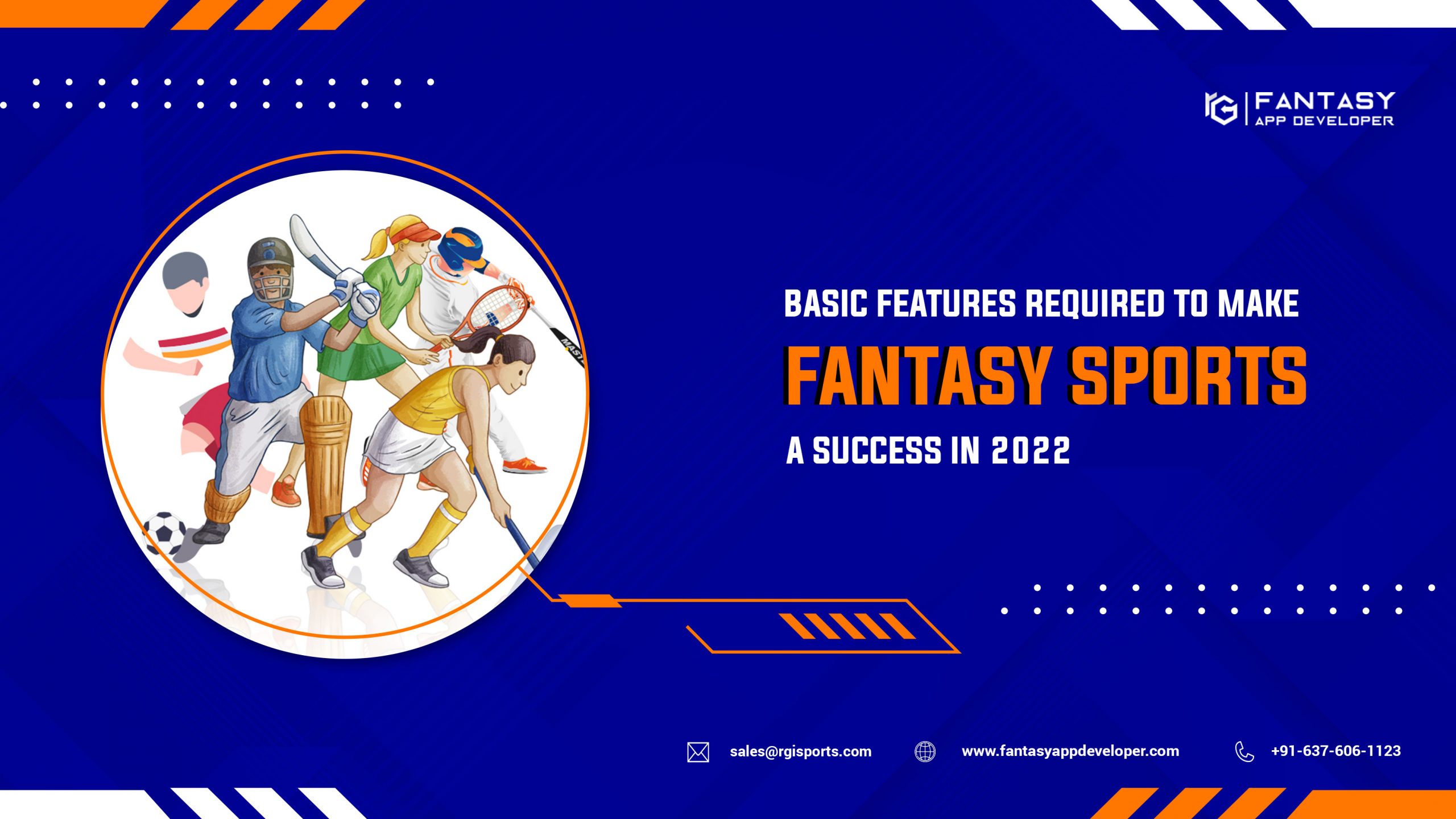 Here are the basic factors, that all the Fantasy Spots businesses should integrate with their platform: 
Responsive Landing Page: Landing page of your Fantasy Sports platform will decide the engagement time of users on your platform. It's the first page or first response that a user will receive after visiting your website/application. Keep the signup process simple and quick. No user will be patient enough to fill out the long login form and then take further action. One can add social media platforms for the login process to make it a matter of seconds. A time-consuming process is exhausting and reduces user engagement. 
Profile:

There should be a user profile for each individual to manage their details and information. The user profile also behaves like a report card which consists of all the information related to your performance on the Fantasy sports platform like transaction records, matches played, account details, etc. 
Home Page:

The home page is filled with all the important information related to apps and sports that need to be transferred to the user. This feature will help the user to search and find out all the information related to sports. Besides this, the home page includes match timings, league schedules, and new upgrades related to sports and matches. The home page is a great feature to manage to keep important information on one page. 
Payment Methods:

It's important to integrate multiple payment gateways on your Fantasy Sports platform. Using limited payment methods will reduce user engagement, as the user might be using different methods. Moreover, no matter what type of payment method you will be using, it should be simple and secure.

Integration of UPI payment methods will surely boost user engagement as no user likes to add their account direct details on online platforms. The transaction is an important activity while using the Fantasy sports platform, so keep it flexible and approachable to all. 
Refer and Earn:

One of the best ways of branding and marketing your Fantasy Sports platform. Include some rewards for your users who are sharing your platform with someone. Like refer and earn Rs 50 cashback on each download. These rewards will attract fantasy sports users and encourage them to share your platform with their fans. This tip has been used by many businesses for decades and now has become an integral part of a sort of marketing and a way of attracting new users. 
Tournaments:

One can keep a separate landing page for tournament-related details which are happening in real-time. Keep the information related to tournaments on one page and allow users to choose any one from them. Along with tournament details, attached features like entry fee, prize pool, etc.
My Tournaments or My winnings:

A page that consists of information related to the user participant in different tournaments, their performance, and earnings made by them. Admin and users both can use this page to keep the track of players' performance and earnings on their respective platforms. 
Team Creation:

It is the basic feature of the Fantasy Sports app platform. This page will consist of the name of all the available players, teams, number of players, etc. available for the respective live contest. 
Looking skilled developer for your Fantasy Sport App? Or Exploring a ready-made solution? Let's discuss with us on coffee.
The Fantasy Sports industry has been growing at a rapid speed and you will be needing the assistance of advanced Fantasy Sports App developers. Hire experienced developers in this field to make sure you are not missing on anything to build user-centric Fantasy sports applications. With the above features, you can surely rule the market, by building fantasy sports at the right time. 
If you are thinking about the benefits and challenges of fantasy sports apps, then here it is: White label fantasy sports app- Benefits and Challenges